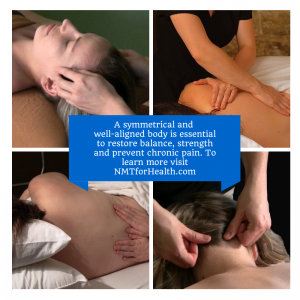 Muscle balance is a vital component to injury prevention. Activities of daily living oftentimes cause pain due to muscle imbalances even though we are not aware of what is taking place.
One example is a pain that develops in one of the shoulder blades.  This could be caused by working a computer mouse that is on a desk that is at a level too high for the person seated and using it.  It could also be caused by turning the head to one side to watch TV, talk to someone, or work while the rest of the body is  facing forward.
Be proactive not reactive! The following wellness programs are provided to maintain balance muscles, give you better body symmetry and posture to prevent pain and maintain health.
You will be able to move towards becoming balanced and whole and achieving optimum health and well-being. You will wake up every day feeling rejuvenated and ready to live a full and happy life.
Structural Balancing Therapy
Dysfunctions are caught early enough, the muscular imbalances which cause them can be corrected. read more
Pregnancy Wellness Program
You know you need to be strong and healthy to feel great (and be great). This program is designed to support you and maintain balance and strength during pregnancy. The program includes 7 sessions for bi-monthly session of structural balance.
Relaxation and tension relief therapy
According to a recent American Psychological Association poll, nearly a quarter of Americans confessed to currently feeling under "extreme stress." Respondents especially blamed money, work, and the economy. read more
Lifestyle and Nutrition
A healthy lifestyle is the bond that connects all of our systems together. My goal is to help you build a foundation for long-term, sustainable health without gimmicks or quick-fixes. read more